H2Overload at Big Surf Water Park
Date: Friday Jul 15, 2011
Time: 6:30 pm - 10:30 pm This event repeats weekly until Aug 5, 2011
Venue: Big Surf Water Park
1500 N McClintock Drive
Tempe, AZ 85281
Every Friday night Big Surf offers swimming under the stars. Enjoy the water park when the sun goes down and hang out in the wave pool, ride the slides and have fun with friends!
Rockstar Energy Drink Mayhem Festival 2011
Date: Friday Jul 15, 2011
Time: 3:00 pm - 11:00 pm
Venue: Cricket Wireless Pavilion
2121 North 83rd Avenue
Phoenix, AZ 85035
Head over to www.rockstarmayhemfest.com for full lineup and more information
Cost: $30.00 to $200.00
OLIVER! performed live, outdoors, at Woodminster Summer Musicals
Date: Friday Jul 15, 2011
Time: 8:00 pm
This event repeats daily until Jul 17, 2011
Venue: Infinity Park
4599 E Tennessee Ave.
Glendale, AZ
Performances 2 weekends, July 8, 9, 10, 14, 15, 16, 17.

OLIVER! by Lionel Bart, the musical retelling of Charles Dickens' Oliver Twist, concerns the adventures of an orphan boy in 19th century London as he escapes abusive treatment in an orphanage and joins a group of pickpockets. Songs include "Where is Love," "It's a Fine Life," "I'd Do Anything," and of course the haunting "As Long As He Needs Me."

Come early and enjoy a picnic, a walk in Joaquin Miller Park, and the beautiful bay views with your family. As the sun sets, take your seats in the outdoor theater and enjoy an evening of music and magic under the stars.
Cost: See venue website for ticketing.
BENT OBJECTS: The Photographs of Terry Border through July 29th
Date: FridayJul 15, 2011
Time: 10:00 am - 5:00 pm
This event repeats daily until Jul 29, 2011
Venue: After Hours Gallery
116 West McDowell Road
Phoenix, AZ 85003
Border's photos, as fun as they are, are more than just one-line jokes. The subtext of social commentary, political mores (or lack thereof) and the exploration of our routines and expectations make the collection worth savoring. The show will continue through July 29th at After Hours Gallery.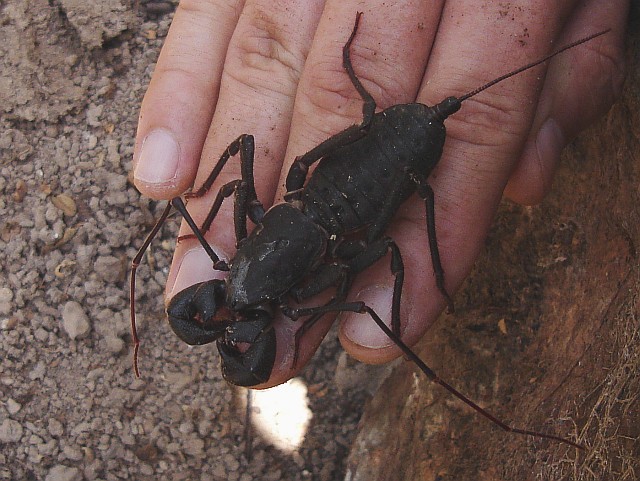 All About Venomous Insects
Date: Saturday Jul 16, 2011
Time: 12:00 pm This event repeats daily until Jul 16, 2011
Venue: Estrella Mountain Regional Park
14805 West Vineyard Avenue
Goodyear, AZ 85338
All About Venomous Insects - Brown-Bag It with Ranger B. A tarantula hawk A velvet ant A giant centipede Do these things really live around here How dangerous are they How do they survive and thrive in the desert If you would like to know the answers to these questions, or any questions you may have about venomous insects, then this one-hour presentation is for you Bring your sandwich to the Brown-Bag It series inside our Nature Center as Ranger B shares some amazing facts about these creepy critters. Location: Nature Center.
Cost: Payment required - $6 parking fee
Jester'Z Improv Comedy
Date: Saturday Jul 16, 2011
Time: 8:00 pm - 11:30 pm
This event repeats weekly until Apr 17, 2020
http://www.jesterzimprov.com. Phoenix Comedy's Best comedy show, Jester'Z Improv Comedy. We have live improv comedy shows every Friday & Saturday Nights at 8pm & 10pm!
Cost: $12 | all ages comedy!
American Idols Live
Date: Sunday Jul 17, 2011
Venue: US Airways Center
201 East Jefferson
Phoenix, AZ
See all of your favorite American Idol finalists LIVE this Sunday!
Cost: Payment required - Buy tickets