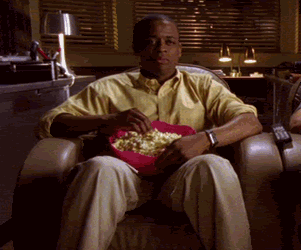 You grab it:
You run to the garage;
You then "spray" the daylights out of the Kitchen, Mud Room & the Garage/

THEN:  you check the sell by 'date' on the box;
Grab a new bag;
Watch it carefully as it pops.

Most, if not all of us, have had this experience or others like:
...tomato sauce overflow;
..,toilet filling too high;
...son, washing out his underpants and taking the top of the tank off so he "can watch to see when they come back";
...too many other examples to post here.--you get the picture

If Life were only that simple--see a problem; latch onto the situation; finesse the solution;  Follow through.

Humor is always the answer to "how to" deal; 
[ that will differ depending upon the severity of the problem ];
Not too funny as you watch your child "light the straw from the broom" to "smoke like Daddy";
Even less so when you discover you just washed & dried the mouse in the snowsuit pocket;
When you see your child at the classroom door with a bloody face while you are at at PTA meeting and he is 'home with the sitter';

As children get older, the situations simply change to age related;
Add some animals to the mix. & a husband who is traveling for work, and you get the picture;
Looking back, these were all "Small potatoes" in the scheme of things.
So many other families have much harder situations with which they deal.

What though when it is a much greater "situation"?

Today I heard that Detroit has a 47% illiteracy rate;
That was astounding, so went online and did research;  Not much better:
In 2010, Detroit City dropped to 56th place in big-city literacy [the report studied 75 big-cities]
[from the http://michiganliteracynetwork.com/blog/2011/01/19/detroit-falls-to-56th-in-big-city-literacy  ]

Michigan's Adult Population at Level 1 Literacy--Percentages --by County:
checking on:  http://www.michiganliteracy.org.counties.htm 

The Tri-County Plus two more:
...Macomb    13%
...Oakland    13%
...Wayne      30%   [Detroit  47%]

Washtenaw  12%
Livingston      9%

An updated listing from:  http://www.oakgov.com/services_index/education/literacy.html   dated 2002-2011
...Macomb    15%
...Oakland    10%
...Wayne      36%
...Detroit      47%

State-wide in Michigan there are 18% Adults [16 & up] who function as illiterate.

Functional Illiteracy is a term used to describe skills in reading & writing that are inadequate to deal with the demands of everyday life.

Illiteracy--in the strictest sense--means the inability to read or write simple sentences in any language.

How many of the 47% in Detroit are actually unable to read or write ---Illiterate--has not been part of this study.

This is much more than the "Burning Bag of Micro-wave Popcorn", but at the same time leaving the burning bag or the bag belching grey-blue smoke will eventually spread all over your kitchen; causing the problem of greasy-smoke-coated cabinets, walls, flooring, appliances, counter-tops, & depending on the design of the kitchen itself, perhaps migration to other rooms.

You DON"T want to do that
There is no humor in that
You really need to jump on that quickly.

Literacy is vital to all residents of every state--We must demand that our schools change everything that needs to be changes so the students will learn how to read, comprehend and apply that which is read.

Is there any humor here at all;
a little gallows humor may apply in these statements

"the reason for the 47% illiteracy in Detroit, is due to the fact that those who-could-read-the-handwriting-on-the- wall--have already left" 

or " I am an Honors-graduate from college & I can't understand the "small print" that comes with my credit card bill"

and "Wake Up And Pay Attention"  --metro Detroit Authors must take that responsibility [ of down turning literacy rates] upon ourselves and help the cause.  Whether it's in your own house, community or more, authors need to focus on Detroit's detrimental literacy rate."   from: Sylvia Hubbard / Jan. 19th 2011  www.detnews.com 

Various approaches to the situation in which our largest city finds itself, as well as the surrounding counties, but to continue with the "status quo" in facing difficult problems will only 'grow them"---
Think about that silly bag of microwave popcorn that is belching that grey-blue smoke.
You can leave the bag inside & hope
You can grab that bag & run
You can spray an odor-removing product
You can Ignore  or Deal with it promptly.

As burning popcorn clouds the house, [Pun intended]
 
So does ignoring illiteracy in our children;
Our children however, who can text [using strange spellings], play complicated XBox type games & place numerous phone calls--walking & talking.    

A true love of or interest in Reading:
can make horizons brighter;
take us to the heights & depths of life;
introduce areas, cultures, & different life-styles;  
educate us to the most complex thoughts;
simply transport us to realms beyond our experiences;

Spouses, Children and Friends are fulfilling and fun to have around;

Good Books can become  great friends & teachers;
They Don't make demands of you;
They don't judge you;
They can brighten a dull day;
They can warm a cold night;
They can scare away the ghosts of life;
They can take you places you could never imagine

To be Literate and to Love it--- is a great thing--
No burnt popcorn allowed.