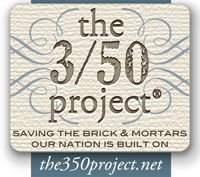 The concept of the 3/50 Project is simple, yet the effects are more than that.
The idea is to spend $50.00 per month at 3 independantly owned businesses in your community that you would hate to see close. According to the Project's website, the impact is tremendous in that if just half the population spent that amount, it would generate 42.6 billion in revenue. They also state for every $100 spent in local stores, $68 remains in the community.
With the economic downturn, and the many small businesses closing, this is a great way to support the stores in your area. To learn more about how this project started, visit this blog.
~Jeff