Sell House Fast - College Park SC: Your personal opinion about how you want your house decorated is just that – personal. It's your style, your colors, and your ambience. When you want to sell your house, however, you will want it to appeal to as many people as possible. Be as neutral as you can but keep it tasteful, too. Simple elegance works well. Your buyers can decorate to their own specifics after they sign the contract and pay for the house.
The décor should be neutral and attractive in an ordinary sort of way. If the house is a home of usual design and floor plan, it will appeal to mainly those who wish to buy a traditional style home. If your house is very unusual in its design features and leans toward the arts influence, the story is different. Have your home decorated in a suitable manner, while keeping the neutral thought in mind.
An example might be in the lighting you have chosen for your home. Recessed lighting might be more neutral than track lighting, which would be appropriate for a modern style home. Recessed or globe lighting would be more appropriate for an older or more traditional home. A common sink style will be the type you should install in your bathroom if you replace the sink. There are many types of outlandish and unusual sink styles available and you can get them in almost any color. Stick with neutrals and basic styling when you plan to sell your house.
Successful décor will qualify as successful only if it prompts a buyer to action. That's the end goal, after all. Where there is any possibility that you will repaint, retile, recarpet, or in any way change out anything in the house before you put it on the market, don't forget the neutral theory. Separate your personal taste from what might be considered more appealing to the masses. Neat and tidy are the buzzwords you should keep in mind when redecorating.
Get the outdoor areas looking great, too. Add an area for sitting if there isn't a patio or deck. Place plants and flowers around the yard in strategic places that will draw the eye naturally to a nice view or attractive feature. If there is a specific tree in the yard that provides shade, place the sitting area under it. Make it a place where your buyers can imagine themselves sipping on a cool beverage under the shade tree in the warm weather.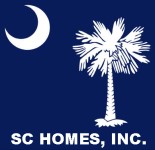 SCHomeBuyers.net is a Real Estate Investor that buys houses in the Charleston SC area. Summerville, Goose Creek, Mount Pleasant, West Ashley, and James Island. If you have a home that you need to sell, contact us to see how we can buy your houses in 7 days or less and close when you want!
We buy houses in all areas of Charleston South Carolina and Goose Creek and all surrounding areas!
Call us direct at: (843) 883-3319 to Sell Your House Fast in South Carolina!